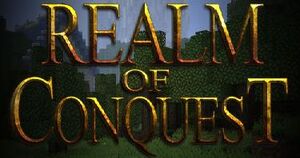 What is Realm of Conquest?
Realm of Conquest (RoC) is a Minecraft RP/PvP server. The server runs with a unique factions system where there are two factions that are very different from each other, Townsfolks and the Dark Fox clan . Gameplay of the server is tailored towards RP as much as possible, meaning that the player has to act in a Roleplay manor and also have a Minecraft skin fitting in with the theme of the players role. Whereas, the Dark Fox clan have their own official skin that they use. Each faction has it's leader, the Crusader leads for the Townsfolk side and is head of the Paladin Guild whereas, the Dark Fox leads the Dark Fox clan . The server consists of a total number of 13 Townsfolks Classes and 5 Dark Fox classes. Each town is run by a single player who has the title of Archduke which in turn have their own permissions. More information in Basic Rules page!
Townsfolk Classes: Gladiator , Farmer , Lumberjack , Fisherman , Hunter , Innkeeper , Blacksmith , Miner , Sage , Page , Paladin swordsman , Paladin Archer , Crusader
Dark Fox clan Classes: The Dark Fox , Tunneler , Slayer , Thief , Dark Archer
If you would like to join the powerful Realm of Conquest, read the Basic Rules, check out our Tips and Tricks for the server and apply in-game. The Realm awaits you!
Realm of Conquest features:
Hardcore RP gameplay
Intense PvP
Raids
Factions
Dedicated classes with special abilities
Fire armor!
NPC Merchants
List of all pages: